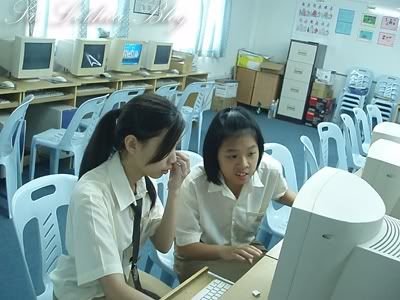 Me, and Kim Fay, working on the slideshow today in the computer lab.

Today's meeting was a brainstorming session. We had to crack open our brains with mental hammers and put forward creative yet practical suggestions.
Now, that was the hard part.
Practical
suggestions.
Anyone can sprout ideas from the tip of their tongues, but when it comes to practicality, how many of these ideas can actually be applied? For example, the problem with buses is that its shape deters the driver from seeing if anyone is being sexually harassed, especially if it's a crowded bus.
One of the solutions?
A miniature, round-shaped bus.
A miniature, round-shaped bus where everyone sits in the view of everyone. Sounds like a solution...in cartoons.
But if there's one incontrovertible thing, the round-shaped bus is a
creative
idea. Just minus the practicality. Hence, minus the mark. =( Which is not good at all.
So no, a round-shaped bus is not our solution.
I really hope to hear some of your ideas. It doesn't matter if it's boring and mediocre or just plain ridiculous, please do voice them out here! Every comment counts. =)